Our design team enable us to either complete a full design or to work closely with our clients own design consultants to develop services for refurbishments, extensions and developments in a range of sectors. Our experienced design engineers can design and implement a complete building services infrastructure to any development, incorporating; lighting, power distribution, communication systems, detection alarms systems, heating, ventilation, air-conditioning and energy saving systems.
Our design capabilities will provide the right solutions to meet ever changing energy saving criteria, BREEAM requirements and legislation with energy and build costing advice, ensuring our proposed solutions fit our clients requirements and budget.
We offer:
Design, costing and advice
Full mechanical and electrical services design
CAD drawing and development
Knowledge and expertise of latest technologies
Energy costing advice
Renewable energy systems
Analysis of existing infrastructure.
Distribution networks.
Indoor and outdoor lighting design.
Heat and smoke detection systems.
Fire alarms and automated firefighting systems.
Intruder and security systems.
Building management systems.
Case Study
Element Six Ascot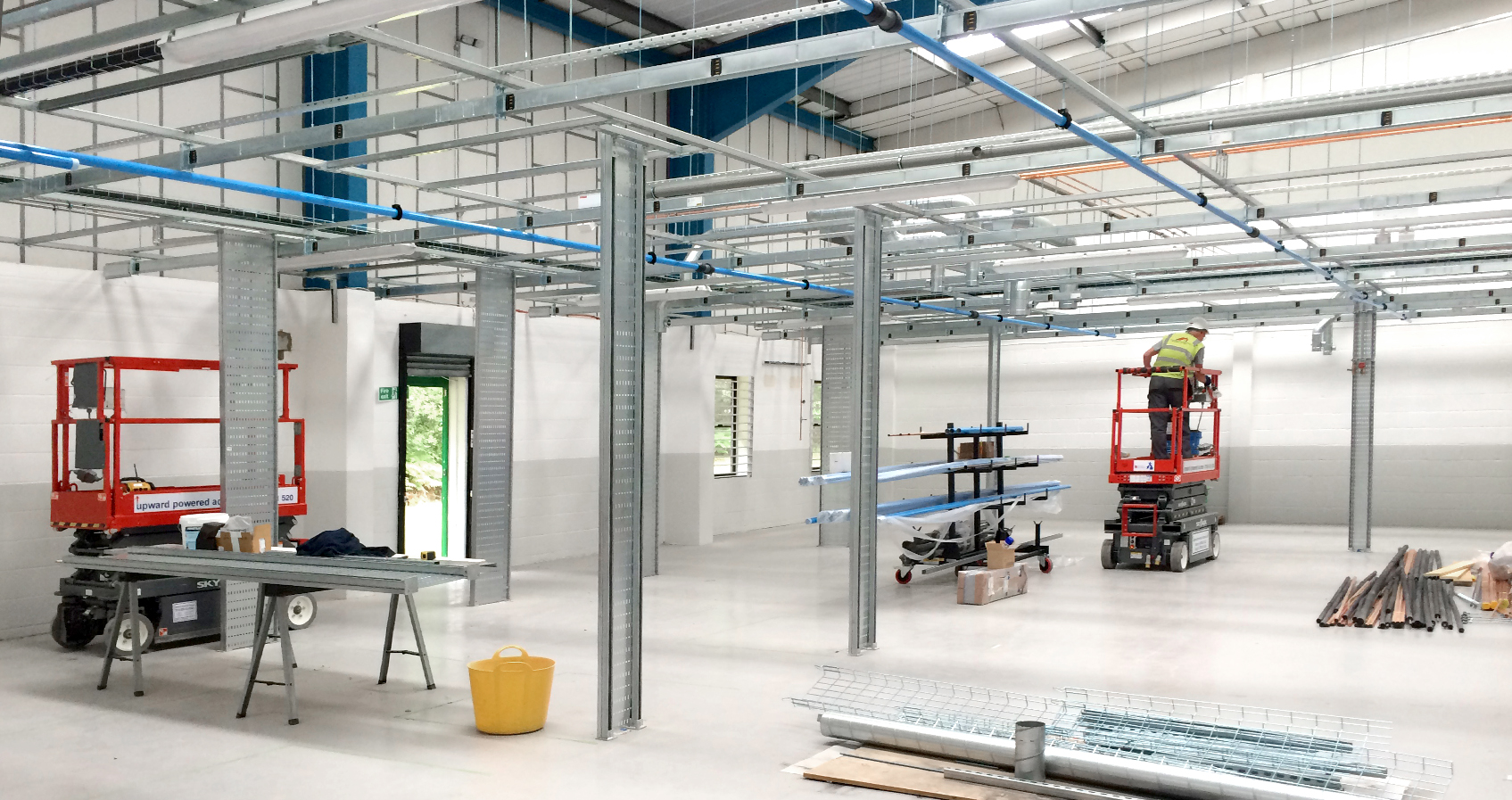 Sector - Industrial
Client - Space industries ltd
Duration - 16 weeks
Location - Ascot, Berkshire
Element Six Ascot
Element Six are manufactures of synthetic diamonds and due to business growth they needed to expand. Which lead them to acquiring the industrial unit opposite their existing building. The fit out of the new unit was over budget so we were asked for value engineering ideas. We were able to assist with bring the project into a workable budget.
The project included:
Design & Build – We carried out full electrical design including loading of all production equipment to establish new
DNO transformer size
Temporary Installation – Temporary 110V 10kVA transformer for builders
Mains distribution – The new distribution system consists of a new 12-way panel board with integral metering and surge protection. Zucchini medium power busbars that offer speed, simplicity and flexibility during planning and installation. Further sub-mains to production distribution boards and external mechanical distribution board
Channel Support System – We design and installed a support system for high level electrical and mechanical services. This was suspended at a workable height above the product lines. This accommodated the ventilation system, busbar system, lighting and containment
Lighting – High output Low energy LED lighting was required to meet required lux levels. These were fitted to a lighting trunking system
Fire/Emergency/Security – The existing fire alarm system was retained and adapted to suit the new layout. The emergency lighting was achieved by using twin flood lighting mounted to the lighting trunking. We install an access control system that worked with their existing system in the building opposite. This gave access to employee
Surveys – Once the production equipment was in use we carried out a power analysation to see if there was a requirement for power factor correction to improve energy efficiency and reduce costs
<< BACK TO OUR SERVICES